The BRAC and Hache Grant Association are seeking an artist to paint the Gabasse St. Bridge piping
August 11, 2023
Two Nicholls Students Selected for Reginald F. Lewis Scholars Program
August 12, 2023
By Tara Morvant
There's no doubt that Louisiana's Bayou Country is home to rich history and authentic Cajun culture, but did you know we are also home to dreamy movie set locations, immersive museums and vibrant murals? The city is covered in magic at every corner.
Whether you're looking to step up your IG game or you're a camera junkie who loves taking pictures, you'll want to bookmark this for your next Houma adventure.
1. Chauvin Sculpture Garden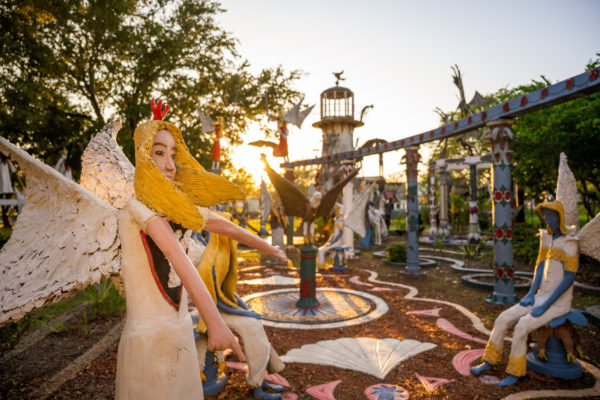 The Chauvin Sculpture Garden in Chauvin, Louisiana is considered one of the top 12 examples of folk art in the world. Inspiration struck artist Kenny Hill, and what resulted is a densely packed collection of concrete sculptures depicting seemingly weightless angels, spiritual representations and a 45-foot-tall lighthouse.
2. Cajun Man Swamp Tour
Begin a mysterious and thrilling journey into the unknown and unexpected when you visit Houma – home to the very first swamp tour. Experience A Cajun Man's Swamp Tour, led by Captain Billy, a native to the land, with plenty of tales of the Bayou legends and mysteries. The swamp and adjacent wetlands are home to the strange and unique; nutrias, rare and exotic birds, deer, wildcats, black bears, otters, and a wide assortment of reptiles big and small, including the ancient and ferocious kings of the swamp – giant alligators.
3. C'est Bon Cafe
Mouth watering over the thought of delicious authentic Cajun cuisine? Thankfully, we have just the thing for you! Folks are lining up to get a taste of their favorite crustacean at C'est Bon Cafe in Houma. Stop by this locally owned restaurant that offers a Cajun flair and fill up on boiled crawfish, po-boys, pastas and more!
4. Mandalay Nature Trail
Generally considered an easy route, the Mandalay Nature Trail takes an average of 19 minutes to complete and will guide you through various habitats leading to a boardwalk overlooking splendid wetlands as far as the eye can see. Enjoy solitude during quiet times of the day and become one with nature as you journey through the vast swamplands, wildlife refuges and ripping marshes of Louisiana's Bayou Country.
5. Southdown Plantation
Along the banks of Little Bayou Black in Houma, Louisiana stands the majestic pink and green manor known as Southdown Plantation. Built in 1858, the 10,000 sq. ft. house features original 19th century furnishings, photographs & artifacts, sugar cane history, a native people artifact collection and history, Mardi Gras collection and history, original slaves quarters and an 1885 plantation worker's cabin. Southdown Plantation is reopening on September 7 since facing devastating damages from Hurricane Ida.
6. Down the Bayou Shrimp Tour
As the demand for quality shrimp increased, so did Kim's passion for educating consumers on the ins and outs of the shrimp industry. Down the Bayou Shrimp Tours offers a hands-on introduction to the shrimping industry and showcases the importance of purchasing local. Understanding how to read labels, the issues between domestic and imports, and how to ensure you are making healthy choices when it comes to purchasing shrimp are a few topics that are covered in their 1.5 hours tour.